MBS Butt Splicer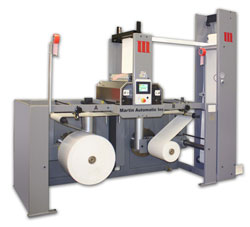 Click here to Enlarge
Overview:
The benefits of automatic splicing add up to significantly increased productivity, greater quality control and reduced waste. The MBS applies these benefits to label converting, flexible packaging and narrow web applications.
The MBS is engineered for versatility, combining simplicity and reliability with feature flexibility. Design features of the MBS include:
Reliable rolling shear splice unit. This patented butt splice unit simultaneously severs the web and irons tape across the splice, producing a tight bond. The precision shear wheel and anvil mechanism guarantees a clean cut and no overlap. A second rotary nip applies tape to the backside of the splice.
Lift-and-load.

A patented, built-in roll handling system lifts rolls up to 1500 LBS/680 KGS from the aisle, without the need for auxiliary roll loading equipment.

Automatic sidelay. This feature maintains the alignment of the running web to the prepared web in the splice unit. A sensor (ultrasonic shown here with a clear film) monitors the position of the running web, and the automatic sidelay system compensates to insure that the webs are aligned at the time of a splice.
Inertia compensated tension control.

The festoon features Martin's inertia compensation technology for consistent, accurate tensioning of the web as it enters the process.

Automatic splice initiation.

The MBS monitors the diameter of the running roll and automatically makes a roll change at a pre-set diameter. Alternatively, the tail grabbing function initiates a splice as material separates from the core for maximum material usage and minimum waste.

Soft tension features. The MBS can be equipped to handle a wide range of materials, including delicate film webs. Driven unwind packages are available for lightweight stocks requiring very low tension levels and strictest tension accuracy.
Specifications:
**
| | | |
| --- | --- | --- |
| Maximum Splicing Speed | to 1000 FPM | to 305 MPM |
| Maximum Web Width | to 26 IN | to 660 MM |
| Maximum Roll Diameter | to 50 IN | to 1270 MM |
** Specifications for the Martin MBS Butt Splicer are meant as a general guideline. The Martin MBS Butt Splicer can be application-engineered to fit each process. Contact Martin Automatic for your specific needs.
Features:
Adjustable running web tension

High frequency automatic roll sidelay

Automatic Tail Grabber splice initiation

15 degree angle butt splice, taped both sides, with automatic edge-trim

Integrated pneumatic loading

Patented inertia-compensated dancer

Pneumatic roll loading with pneumatic core-lock

Roll rotation flexibility - either direction

Simple splice initiation
Optional Features:
Accelerator packages for speeds greater than 500 fpm

Explosion-proof provisions

Special rollers for unique applications

Transparent or opaque sidelay-sensing

In-Register Splicing Package
Downloads:
As with all Martin products, the Martin MBS Butt Splicer can be application-engineered to fit each process. Contact Martin Automatic for your specific needs.