First Tape and Label Adds Real Value to Customer Relationships
Posted: September 17, 2015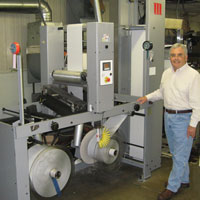 David Haak and his Martin MBSC Automatic Splicer

Most family-owned print shops have humble beginnings. First Tape and Label started in Texarkana, Arkansas in 1980 with one old press and David Haak, proprietor and soul pressman.
One afternoon David's wife Debbie, a school teacher, requested that he print some little happy face stickers for her to use with her students. David agreed to print a few on some scrap material. A few days later Mrs. Haak reported that the stickers were a big hit and she asked David to print more, a lot more. David said he really didn't really want to do it but Mrs. Haak continued to negotiate. She offered to take care of post print production and would handle selling them. They struck a deal, David printed the stickers and Mrs. Haak made up 300 finished rolls to sell.
Three days later David came home and found a handsome new recliner in their living room. "Where did this come from?" David asked. His wife replied, "I bought it. I sold every one of those little stickers." David noted that they were pretty broke at that time and now he had a brand new recliner, paid for by little happy face stickers. He thought to himself, "You know what-there might be something to this sticker business."
First Tape and Label created teacher packages of stickers which became quite popular. These happy little stickers were the stepping stones to greater things. Today the company specializes in sophisticated industrial labels for tires, automotive parts and food packaging.
New tire labels are an important part of First Tape's business. David bought his first printing press from a company that was printing labels for a local tire manufacturer. Unfortunately that printer was not delivering what the tire company wanted to buy. David called on the tire company persistently and was finally awarded a one-time job as a test. It was the beginning of a high-value relationship which has continued to grow year after year. David said, "You win business by delivering exceptional service." He recalls making deliveries personally at all times of the day or night. When his customer asked if he ever slept he responded, "Not when you really want something."
Great service means you're adding real value to the relationship. David noted, "You deliver the best quality you can every time and then work to add more value to the product and relationship. You look for opportunities to serve beyond a good printing job and that's where you build strong relationships." First Tape and Label often reevaluates their processes and materials in search of additional cost reductions for the customer without compromising product quality or functionality. This personalized service has led to the development of specialized substrates and adhesives that resolve specific customer application issues and needs.
While top quality printing and service is very important, it's not a game-changer until you deliver competitive pricing. Most of First Tape's business consists of short runs. Many of these short runs are on the same stock and utilize the same dies. First Tape wanted to try automatic roll change and rewinds, hoping they would further reduce their per impression costs. After significant research they decided upon Martin Automatic equipment, mainly because of their reputation in the industry. Because of First Tape's short-run environment, many of the pressmen didn't think it would work but David decided to give it a try anyway.
First Tape and Label invested in a new digital print engine and retrofitted it on an older Aquaflex press to create a very affordable digital press. They then added a new Martin MBSC splicer and a Martin STR rewind to deliver non-stop productivity. First Tape now has a serious production line that blows away the alternatives. Within a very short time this one press combination was producing the work of five flexo presses put together. The pressmen no longer doubted the value of automatic roll change and now they call their new press combo "The Beast!"
Roll change automation doesn't always make sense for short run printing but David Haak did his research and found a way to make it work. If you're printing digital and running the same thing every day on the same substrate, even with short-runs, it's just amazing how much more production you get at the end of the day with automatic roll change.
The experiment was a success and First Tape now has a second retrofitted digital press connected to a second set of Martin automatic splicer and rewind. David also bought two additional sets of Martins to support his other flexo presses.
David Haak concluded, "When I look back at how we started and compare that to the company we have today, I have to say that we've been very blessed. We have exceptional people who do their jobs very well. And we have exceptional technologies that will continue to deliver high-value for years to come. I think those little happy face stickers were trying to tell me something."